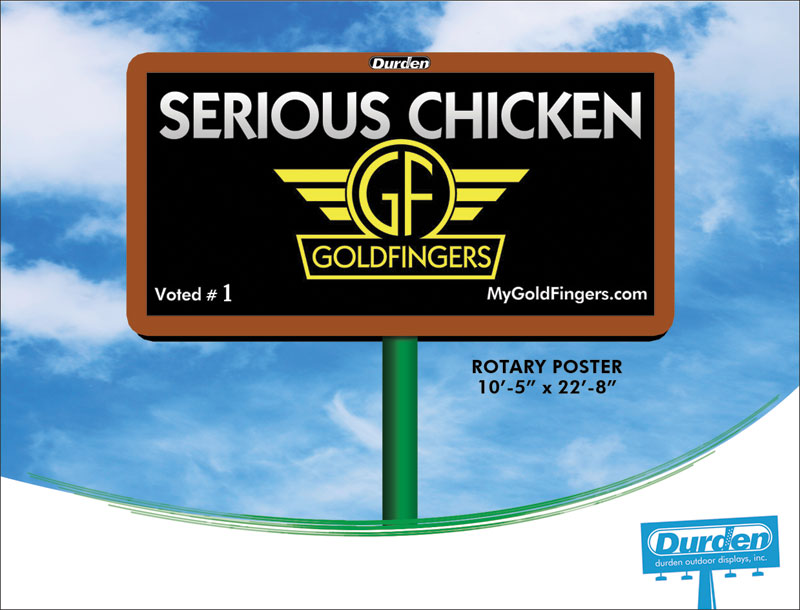 Goldfingers is a Dothan based restaurant serving high quality chicken fingers, burgers, pizza, salads, wraps, and more.  Be sure to check out the awesome sauce they have for their chicken fingers in any of their 3 Dothan locations. I have to admit I eat the sauce with my french fries and chicken fingers.  Goldfingers has been working diligently to build brand identity as they launch their  restaurant business into a full swing franchise.
The initial phase with their restaurant advertising approach was to use the Durden Outdoor 4 Week Rotary Posters.  Goldfingers received a new billboard location every 4 Weeks and altered the message slightly each month to keep the message fresh. By using a total of 4 billboards per month they were able to capture a large section of the Dothan market.
If you would like more information on the 4 Week Rotary program and its benefits be sure to contact our experienced marketing professionals for details.
https://www.durdenoutdoor.com/wp-content/uploads/2016/06/DUR-Footer-Logo.png
0
0
Amy Riddle
https://www.durdenoutdoor.com/wp-content/uploads/2016/06/DUR-Footer-Logo.png
Amy Riddle
2011-06-17 20:32:22
2011-06-17 20:32:22
Goldfingers has some SERIOUS Chicken Fingers